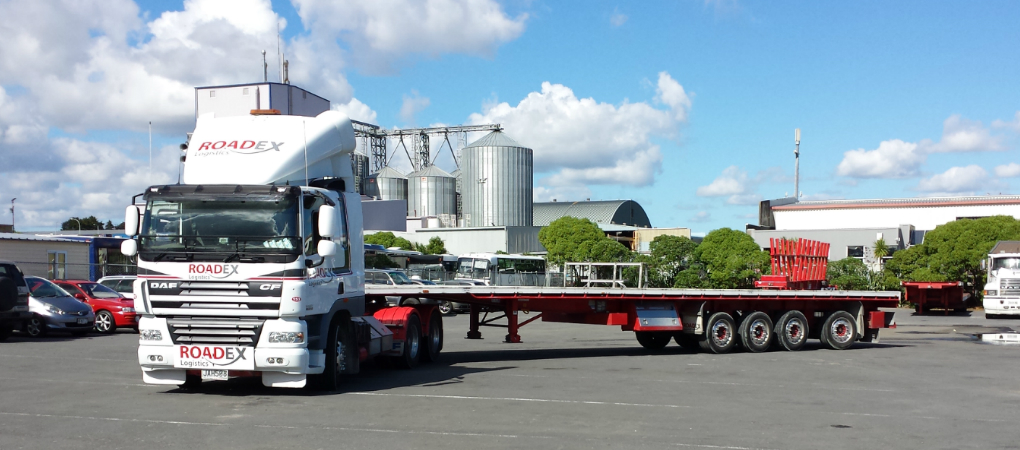 Roadex provides business to business Road Transport services primarily for manufacturers supplying products to the Infrastructure and Construction sectors.
Our company had its origins in the Waikato and Bay of Plenty regions more than 30 years ago and since opening our Auckland branch 10 years ago we have experienced significant growth.
We operate in the Upper North region servicing customers based in Auckland, Hamilton, Tauranga and Whangarei.
We have three distinctive service offerings with our large fleet of flat deck vehicles, ranging from 4×2 rigid Hiab trucks through to a mix or articulated vehicles comprising specialised concrete panel and trombone trailers that are capable of carrying over-dimensional loads up to 30 metres long and 6 metres wide.
We arrange all permits and pilots to ensure your over-dimensional load reaches your customer intact and on time.
The service offerings are categorised as :
DEDICATED – Whereby we provide a contracted vehicle and driver solely dedicated to work for a specific customer. The vehicle is signwritten in your livery and the driver wears your company uniform. Rates are provided on a per vehicle basis
SOLE SUPPLIER – We provide a mix of vehicles to provide a total solution for major customers, on the basis of sole preferred supplier. If your requirements exceed our fleet capability on any occasion we take care of the delivery by using carefully selected sub-contractors to ensure service standards are maintained. This ensures you only deal with one transport company and that your "contract" rates are applied for all deliveries.
ON DEMAND – These services are for customers that range from every day use to those with more infrequent transport requirements. On-Demand services are provided across our whole fleet range including hiab and flat deck vehicles.
Our Driving team consists of a mix of Owner Drivers and Company Drivers spread across our various locations. All drivers are Site Safe certified and our hiab vehicles and drivers are OSH certified.
Our Management team – Is very experienced in all facets of the Transport industry and is totally dedicated to providing our customers with a Total Road Transport solution. No matter what your industry sector we have the team to provide the direct transport service you require. For Dedicated and Sole Supplier customers our team will design and supply specialised equipment required to ensure your product reaches your customer on time and in perfect condition.
Technology – All vehicles operate the E-Road system that includes GPS tracking and electronic messaging to ensure up to the minute information is available on each vehicle and with each driver. Our Dedicated customers have full access to their vehicles and drivers through this system.
Health and Safety – We have developed our in house SOP's in conjunction with our customers and all drivers are Site Safe trained and certified. We have regular H&S meetings and have a permanent H&S compliance manager in our management team. We currently hold "Tertiary" ACC accreditation.